Hurricane Dorian is proving to be historic as a rare and deadly category 5 superstorm. On Sunday, September 1st and into Monday, the storm thrashed Grand Bahama Island and the Abaco Islands with sustained winds of over 185 miles per hour.
Dorian reached the Bahamas and then slowed down, hovering over the islands and drawing out the length of time they were exposed to the worst.
Gusts whipping through the air, never-ending, slamming rain, and sounds of total chaos and destruction are what Bahamians are going through right now.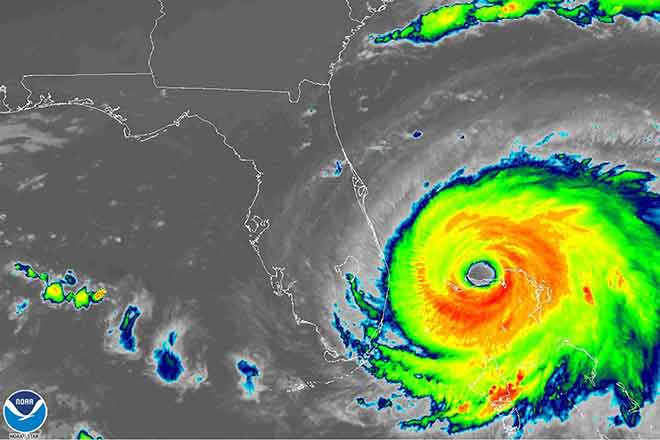 Satellite view of Hurricane Dorian as it approaches the east coast of Florida September 2, 2019. Courtesy NOAA.
Officials have said that at least 5 Bahamas residents are dead. 
The hurricane is going to move up the east coast of the US after it passes the Bahamas. This means that the damage and destruction are not over yet.
Besides the loss of life and homes, Hurricane Dorian also comes with an environmental cost. 
 nahte_damor/Instagram A man is caught out in the elements as Hurricane Dorian lashes the Bahamas.
Devastating winds not only drag high volumes of trash and debris out to sea, but also pose a risk for water sources inland. Besides pollution from debris, when the power goes out, sanitation services that clean our water may stop working, leaving fresh water sources at risk of getting contaminated with other sources of undrinkable water. 
After Hurricane Katrina, for example, groundwater was contaminated with dangerous chemicals, and floodwaters in neighborhoods got contaminated with raw sewage.
Even more: The cost of clean up and rebuilding infrastructure often takes away from government money meant to be used for environmental issues such as climate change (the funds the government puts aside for environmental issues are already dangerously low). 
And experts warn that with increasing climate change, hurricanes are only getting stronger.
The good news is that there is a way you can do your part to help lessen the impact of these superstorms. 
By using less plastics and cleaning up pollution from the oceans, you are making it so the impact of these hurricanes in terms of how much trash is dragged into the sea is less. 
Our newest release- a comfortable, stylish bracelet that uses recycled plastics- does just that. You contribute to taking trash out of our oceans, and at the same time you tell everyone where you stand- and call them to action too. 
Get it here.
In the meantime, follow us on Twitter and Instagram to get the latest updates on environmental news and stay up to speed on our newest offers.